MYiptv4K APK
,
Malaysia ASTRO All Channel /Singapore/Indonesia /International IPTV Subscription
(220+ liv
e channels & 500+ VOD films)
MYiptv4K
is the upgraded version of
MyIPTV
Note:
MyIptv4K only works steadily in
Malaysia / Singapore
now. The service outside the 2 countries may be unstable or blocked, so it's not recommended outside the 2 countries. Plz know it.
Highlights:
1. Support ALL devices incuding Android box/phone/emulator,smart TV, iOS iPhone/iPad, tablet,Windows PC...
2. Switch device FREEELY by the same user account.
3. Support EPG
APK Icon: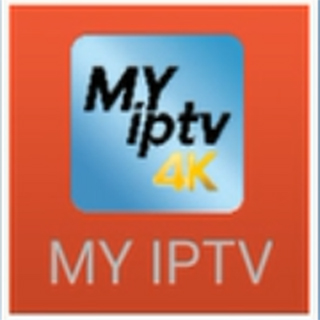 Look here: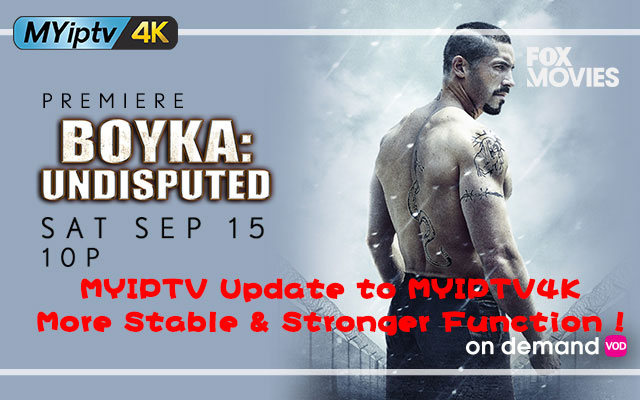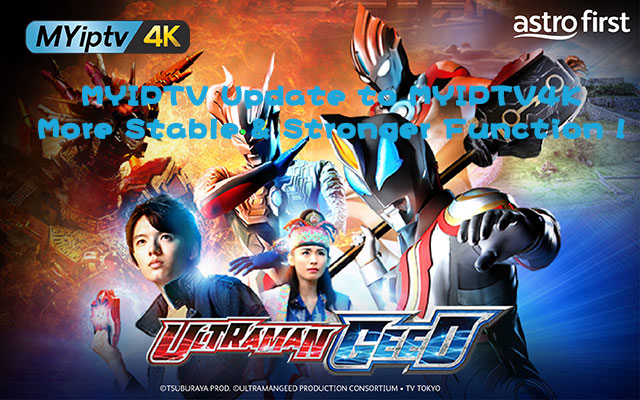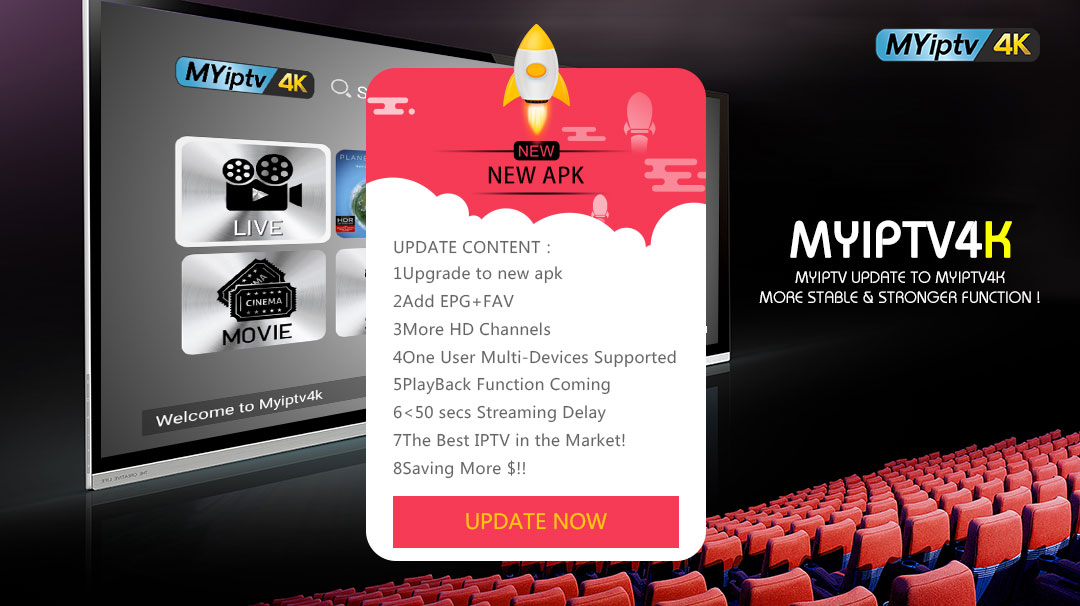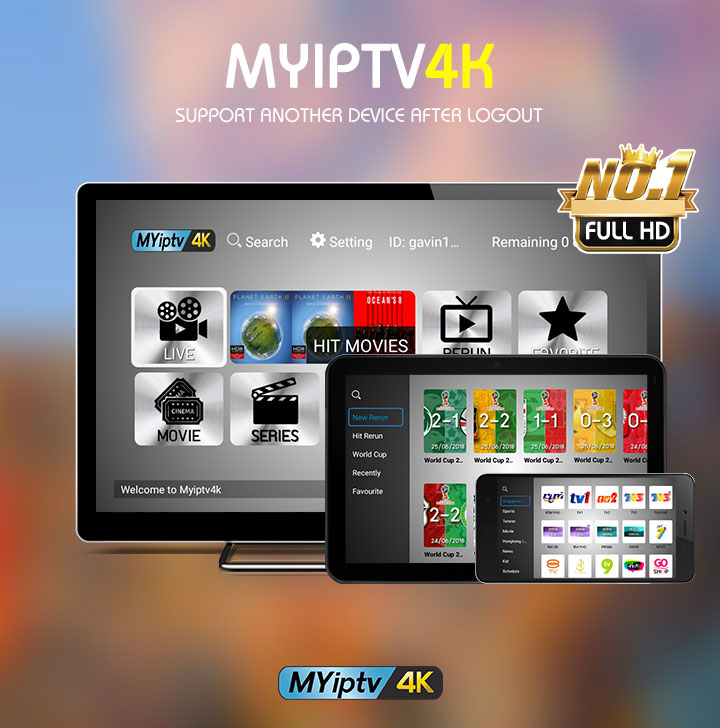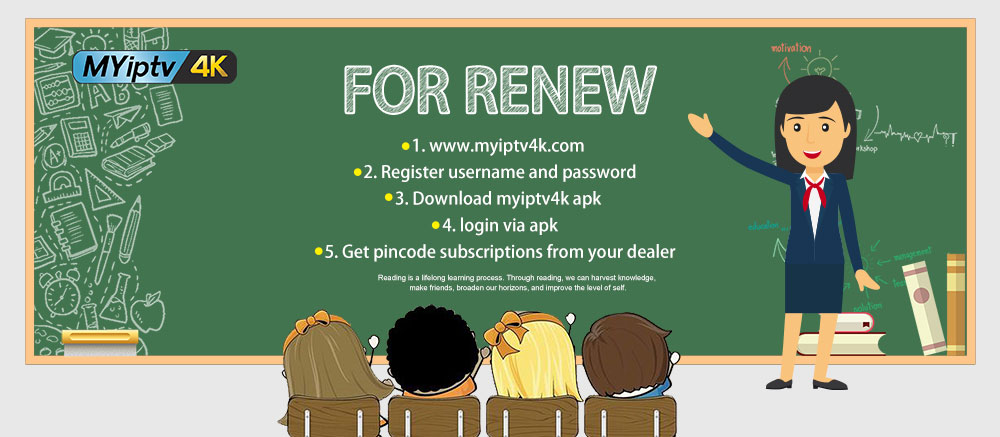 Subscription:


1.

Support

1, 3, 6, 12 month

subscription.

Note:Each device can use 1 month subscription ONLY ONCE. Later please buy 3, 6 or 12 month subscription


2. Sorry,

no free trial

by now, please buy 1 month subscription for testing.
Live TV Channel Package:


1. MalaysiaASTRO all channels
2. Singaporehot TV channels
3. Indonesia hot pay-TV channels
4. International hot pay-TV channels
5. ……
VOD Programs:

500+ films by now




1. English




2. Momedy




3. Animation




4. ENGLISH




5. Action





Devices Supported:




Almost all devices as longas can visit internet


1. Android TV box
2. Any mobile phone
3. PC (Windows or iOS)
4. Tablet/iPAD
5. Smart TV
......



Specification:




1. Support

Android 5.0 or higher version.




2. Plug & Play. No need dish antenna. Workable at anywhere and anytime in the world as long as there is internet.




3. Live TV channel resolution: 720p-1080p




4. New channels are updated online automatically.




5. Channel switch time: 3-5 sec




6. Bandwidth required:
SD channel: ≥ 2Mbit,
HD channel: ≥ 4Mbit
User Guide:
For Android device:
1. P
lease visit http://www.myiptv12k.com and download the latest apk version by click the icon:
2. Copy the "*.APK" file to a USB disk.




3. Insert the USB disk onto box. Install the APK from the USB disk by "AppInstaller" or open the apk file in "File Manager" on your box.



For any other devices:
Please visit

http://www.myiptv12k.com

to sign in.

4. For the first time, pleae visit

http://www.myiptv12k.com

on internet to register a member/user account.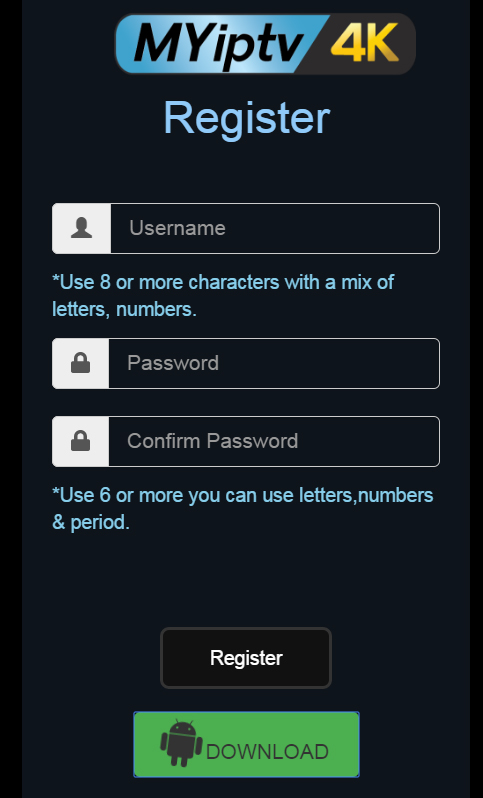 Warning:

Please remember your this member/user account most most most carefully. It's necessary for your login/switch device/renew.



5. Sign in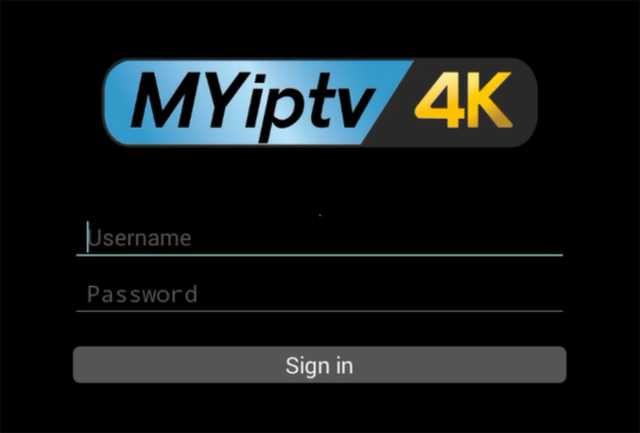 6. Activating your subscription.
When paid, we will give you a 12-digit redeem code (pincode). Pleae click "Topup" button

and key in the pincode to activate your subscription. Once activated, no need to topup/activate it again even if you want to switch to other devices.
7. Once activated, you can watch the programs on almost any devices by the same user account. At one moment, you can only enjoy the subscription on one device, CANNOT share the subscription on more than one device at the same time. So, if you want to sign in on a new device, please sign out at first from the previous device.

8. How to renew the subscription?
If your subscription is expired, when paid, we will give you a new pincode(redeem code). Please just activate it by "Topup", then you can continue enjoying the subscription.
Warning:




1.

Sorry,

no free trial

by now, please buy 1 month subscription for testing.


2.

Each user/device can use 1 month subscription ONLY ONCE. Later please buy 3, 6 or 12 month subscription.


3. It's virtual product.

Once activated, NO return and refund.





Trouble Shooting: