IPTV6K APK
,
IPTV Subscription for Malaysia /Singapore /Indonesia /India /Pakistan /Japan /Korea /HK /TW /TH /VN /Australia...with

XXX
(1000+ liv
e TV & 8000+ VOD)
Highlights:
1. Support all Android devices incuding Android box,phone,emulator,smart TV, tablet...
2.

One user account supports more devices

. Switch devices FREEELY, no need unlock / unbind.
3. Support EPG, TV playback
APK Icon: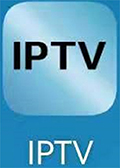 Subscription:


1.

Support

1, 3, 6 months

,1,2,3 years subscription.
2. Support 1 day (24hours)

free trial

.
Live TV Channel Package:


1. Malaysia, Singapore, Indoesia, Philippines, Vietnam, Thailand... hot TV channels
2. India, Pakistan... hot TV channels
3. Japan, Korea,HK, TW, Mainland China... hot TV channels
4. Australia hot TV channels
5. International hot TV channels
6. VVIP xxx channels
7. ……
VOD Programs:

8000+ films by now




1. English




2. Momedy




3. Animation




4. ENGLISH




5. Action





Devices Supported:


1. Android TV box
2. Android mobile phone
3. Android Tablet
4. Android Smart TV
......



Specification:




1. Support

Android 5.0 or higher version.




2. Plug & Play. No need dish antenna. Workable at anywhere and anytime in the world as long as there is internet.




3. Live TV channel resolution: 720p-1080p




4. New channels are updated online automatically.




5. Channel switch time: 3-5 sec




6. Bandwidth required:
SD channel: ≥ 2Mbit,
HD channel: ≥ 4Mbit
Apply for free trial:
Please send email to

sales@tde-mall.com

to apply for 1-day(24h) free trial user account.
The user account is counted from the moment you activate it.
User Guide:




1. P

lease download the latest apk version on

www.iptv6k888.com


or

IPTV6K APK Files

(Plz unzip it before installation)
2. Copy the "*.APK" file to a USB disk.
3. Insert the USB disk onto box. Install the APK from the USB disk by "AppInstaller" or open the apk file in "File Manager" on your box.
Warning:

Please remember your user account most most most carefully. It's necessary for your login / switch device.



4. Activation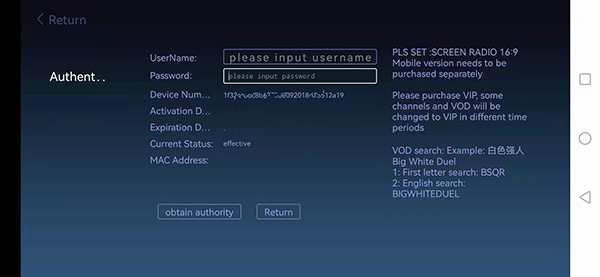 5. Once activated, you can watch the programs on almost any Android devices by the same user account. At one moment, you can only enjoy the subscription on one device, CANNOT share the subscription on more than one device at the same time. So, if you want to sign in on a new device, please exit at first from the previous device.

6. How to renew the subscription?
If your subscription is expired, welcome to renew it in our store. When paid, we will give you a new user account. Please just activate it , then you can continue enjoying the subscription.
Warning:
It's virtual product.
Once activated, NO return and refund.
---------------------------------