IPTV6K

APK,IPTV Subscription for Malaysia Singapore Indonesia Philipines Vietnam Thailand Japan Korea India Arab HongKong Taiwan China and USA
(1200 LiveTV + 10000 VOD)
Support FreeTrial
Warning:

Please don't use it in China mainland. Otherwise, your user accounts or subscription will be closed and we won't be resposible for it.
Hightlight:


One user account can support more devices without unbind or unlock but only one device can play at the same moment.



APK Icon and Main Menu: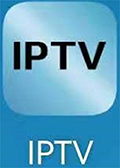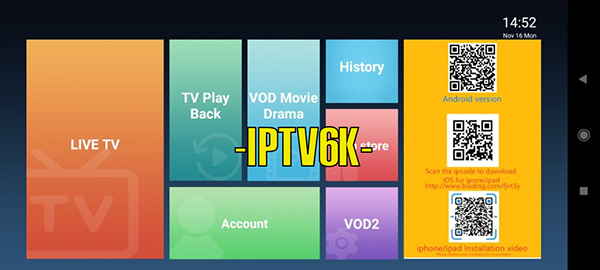 Main Menu on Mobile Phone
Subscription:
1. Support 1 month,3 month,6 month,1 year,2 year and 3 year subscription.
2. Support 1-day (24H) free trial. Please contact us if you want to try.
Live TV supported: 1200+ channels
Malaysia, Singapore, Indonesia, Philipines, Vietnam, Thailand,
Japan, Korea, India, Arab, HongKong, Taiwan(China),
China Mainland, USA
VOD supported: 10000+ programs, update everyday.
Movies, News, Documents, Sports, Kids...
Live TV Channel List:
Download on :

IPTV6K Channel & VOD Lsit FYI


Note: The channel list is only For-Your-Information or for your reference. The actual channels are often changed or adjusted. Please refer to what you actually see.
Devices Supported:
1. Android IPTV box
2. Android mobile phone
3. Android tablet PC
4. Android smart TV
5. ……
Key Features:
1. One user account can support more devices without unbind or unlock
2. Support Android 5.0 or higher version.
3. Live TV channel resolution: 720p-1080p-4K
4. Plug & Play. No need dish antenna. Workable at anywhere and anytime in the world (except China mainland) as long as there is internet.
5. The apk and new channels & VOD programs are updated online automatically.
6. Channel switch time: 0.5 sec (up to your network quality)
7. Internet speed/bandwidth required:
SD channel: ≥ 2Mbit,
HD channel: ≥ 4Mbit

Demo Video:
Demo Video playing on Youtube
User Guide:
1. Please download IPTV6K apk file on any one in the following links:


www.iptv6k.vip




www.iptv6k.com


Or please download on :

IPTV6K_setup.zip

(need unzip before installation)
2. Copy the "*.APK" file to your USB disk or your device.
3. Install the APK by "AppInstaller" or "File Manager" on your device.
4. Run the apk and activate your subscription by your user account (Username + Password).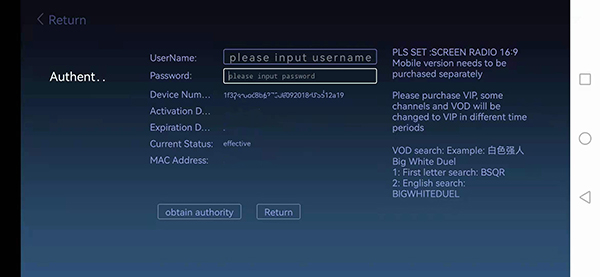 5. If you want to share one user account on more devices,
1) Install IPTV6K apk on all your devices.
2) Activate the user account on all the devices seperately.
3) One account can ONLY work on ONE device at the same moment. if you want to switch to another device, please exit from the prevoius device at first. No need unbind or unlock the user account.